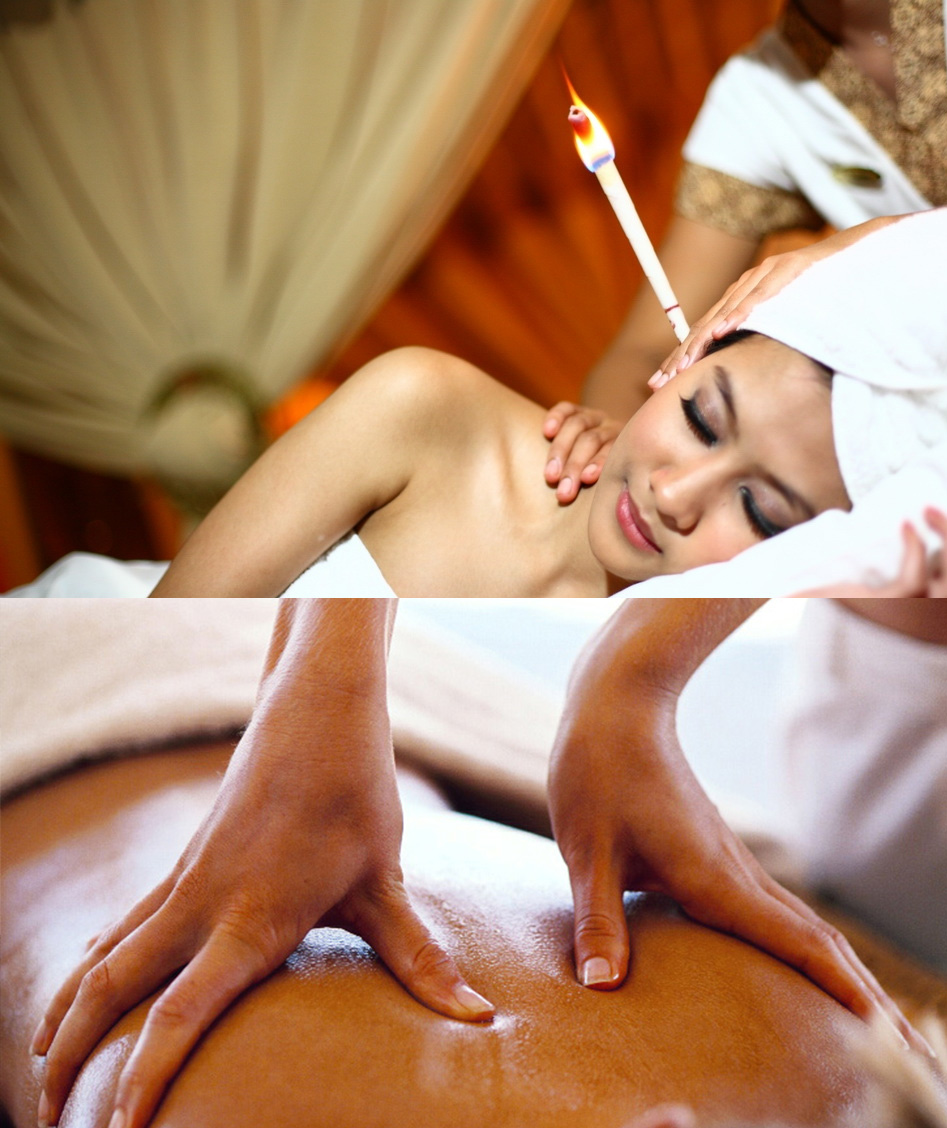 Namaste Holistic Therapies
Face Reflexology 1/2 hr $60
Feet & Hands 1/2 hr $50, 1 hr $70.00
Face, Hands and Feet Combo 90min $110.00
Reflexology is a system of massage used to relieve tension and treat illness, based on the theory that there are reflex points on the feet, hands, and head linked to every part of the body.
According to the theory, the reflexologist's application of pressure to feet, hands, face or ears sends a calming message from the peripheral nerves in these extremities to the central nervous system, which in turn signals the body to adjust the tension level. This enhances overall relaxation, brings internal organs and their systems into a state of optimum functioning, and increases blood supply (which brings additional oxygen and nutrients to cells and enhances waste removal). It positively affects the circulatory, respiratory, endocrine, immune, and neuropeptide systems in the body.
Ear Candling $50.00
Ear candling requires the use of ear candles. Ear candles are made of cotton or linen that's wound into a cone shape, soaked in wax, and then allowed to harden.
This hollow candle is inserted through a hole in a plate specially designed to collect wax, and placed into the external ear canal. The candle is lit at the opposite end.
Proponents of ear candling claim that this creates a low-level vacuum that draws ear wax and other debris out of the ear and into the hollow candle. After the procedure, a dark, waxy substance is usually left in the stub of the candle.
Acupuncture 60min $80 / 90min $100 –
Acupuncture is an effective form of medical treatment that has evolved into a complete holistic health care system. Practitioners of acupuncture and Traditional Chinese Medicine (TCM) have used this non-invasive treatment method to help millions of people become well and stay well.
Acupuncture promotes natural healing. It can enhance recuperative power and immunity, support physical and emotional health, and improve overall function and well being. It is safe, painless and effective way to treat a wide variety of medical conditions.
During the initial exam a full health history is taken. Gathering this information enables the practitioner to effectively diagnose and detect any specific imbalances of Qi that may have contributed to a person's health problems. The practitioner can then create a well structured treatment plan.
Once the imbalances of Qi are detected, an acupuncturist will place fine, sterile needles at specific acupoints along meridian pathways. This safe and painless insertion of the needles can unblock the obstruction and balance Qi where it has become unbalanced. Once this is done, Qi can freely circulate throughout the body, providing adequate nourishment to cells, organs, glands, tissue and muscles. This can eliminate pain and restore balance and harmony as well as the body's ability to heal itself ultimately leading to optimal health and well being.
Reiki/ Crystal Reiki ½ hr $45.00 / 1hr $65.00
Reiki is a safe and natural method for improving your health. It is effective in calming our physical and emotional state while experiencing peace and relaxation. Reiki is completely non- invasive healing technique that can aid in the natural recovery from injuries and pain. Reiki can be very helpful with sleep and stress management.
Crystal Reiki involves strategically placed crystals along the chakras and on or near any other areas of focus on the body. During a session, the Reiki is intensified by the crystals. Each crystal chosen has specific properties and healing powers that work along with Reiki energy.
Biogenesis ½ hr $45.00 / 1hr $65.00
Biogenesis is a technology that is millions of years old, but has not been on Earth since the days of Atlantis. Re-introduced to earth in 1999 by ascended master Lantos to the Demaray family of Colorado, USA and is slowly being spread through out the world.
Biogenesis involves energy infused glass tools. The glass tools then radiate the energy to their environments. Each tool uses the same energy, but the design of the tool determines how that energy is to be used.
Biogenesis Energy influences many different area's of life, including the following qualities and conditions:
Youthfulness & Vitality

Cold/Flu
Happiness & Creativity
Depression
Manic Depression
Bi-Polar Disorder
Self-Esteem
Stubbornness & Aggression
Emotional Traumas
Digestion & Strength
Congestion
Freedom from the past
Spiritual Growth
Angel Card Readings ½ hr $45.00 / 1hr $65.00
Angel Card Reading can be a powerful tool for those seeking guidance in their life. Like Tarot card, Angel Cards can give insight into relationships, careers and finances while giving the recipient peace of mind and confidence in their decisions. Readings may focus on a specific question or be more open-ended, simply honing in on a general aspect of life. They may also be effective methods of tuning into subconscious thoughts, emotions and visions that can also serve as guidance.
Asking the cards to reveal information about a specific question is a powerful method used in readings. Those seeking a reading should not expect to receive a simple yes or no answer; instead, the cards should be used to guide the recipient toward making decision. Questions should be specific but open-ended and focus on your own actions, not those of others. For example, do not ask how you can get your mother-in-law to move out; instead ask how you can work to change your relationship for the better. Keep and open mind to receive the full benefits of your angel card readings.
They can also offer general guidance regarding a certain area of your life. Without asking a specific question, these readings are particularly useful when experiencing a transition in life in either your relationship, home or career.
Intuitive Reading/ Mediumship 1hr $100.00
Francis & Eunice are both psychics with loving & nurturing souls. They act as a conduit for all types of messages & information for a clients' greatest good. During an intuitive reading, they might talk about physical issues, emotional blockages, your history, past lives, your future, energetic issues going on in your home, or loved ones that have crossed over. They offer energy clearings & healings relating to all of these issues if required, bringing relief and restoring peace & balance.
Namaste Body Treatments
Body wraps are all the rage at spas these days — you might have even seen billboards or TV commercials touting the miraculous slimming benefits of these treatments. Women arrive at the spa in the morning and leave an hour later, suddenly three dress sizes smaller and completely free of cellulite.
Detox Body Wrap with Steam Shower $95 1 hr Service
Everyday, we are exposed to toxic substances through what we eat, what we wear, the cleaning supplies we use and pollution in the air we breathe, just to name a few. Using body wraps for detoxification can help eliminate some of those harmful toxins from your body and provide essential vitamins and minerals to your body's largest and most visible organ — your skin.
Detox Body Wrap with Lymphatic Drain and Sauna Steam Combo $150 2 hr Service
For those of you with a sluggish immune system, a manual lymphatic drainage is what you need. Our therapists will pump your lymphatic system for you using a dry brush, increasing you lymph flow by 20 times. Followed by a blueberry detox body wrap. After being wrapped up for 30mins you will push out most of your toxins in a 20min Infrared Sauna session. Followed by a hydrating Steam/Shower and finishing off with a hot oil/lotion application.
Herbal Cellulite Treatment with Steam Shower $120 75min Service
The "slimming" wrap treatment is only the tip of the body-wrap iceberg. They're offered to improve arthritis, skin ailments and cellulite. "Detox" wraps claim to draw toxins out of your body. With pinching and rolling of the skin our therapists are able to break up and loosen the fascia.
Seasonal Body Scrub with Steam Shower $85 1hr Service
Let us customize your revitalizing treatment with a choice of seasonal scrubs. And then begin the journey with an exuberating sugar scrub blended with aromatic essential oils exfoliates and awakens healthier skin. A Steam Shower rinse is followed by a wellness solution formula applied to muscles and joints, restoring whole body well-being.